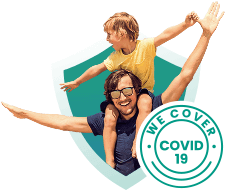 We are the only company to offer
free travel insurance

with medical coverage of up to USD $100,000!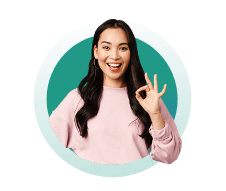 ¡We guarantee the best price on the market!

If you find a cheaper and comparable offer, we'll match it.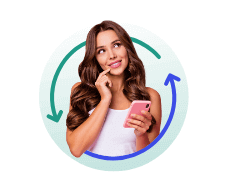 Free Modifications

on all your bookings.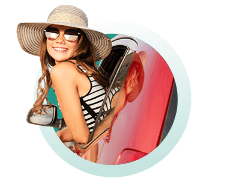 Car rental with
Unlimited Mileage.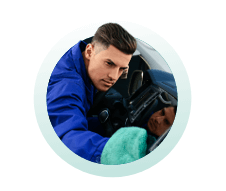 All rentals are
disinfected

before pick up.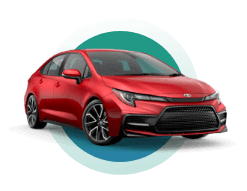 Renting cars in Latin America

for over 10 years
Based on 3312+ reviews
Frequently Asked Questions
01
What are the rental requirements when picking up the rental?
Deposit guarantee: A deposit will be required as a guarantee at the time of pick up. The corresponding amount will be determined by the rental company and will be retained on the credit card registered at the counter.
Driver'slicense: You must provide a valid driver's license (Latin Alphabet) issued in your country of residence. If your driver's license is not in Latin Alphabet, you will be required to provide an international driver's license along with your driver's license. An international driver's license may be mandatory in some areas of the USA. Please verify this information with the corresponding entity before travelling.
Credit card: The reservation holder must have a valid credit card under his/her name. The credit card holder's name must be printed on the card and it must count with sufficient funds to cover the deposit guarantee. The following credit cards are accepted: Visa, MasterCard, Diners, American Express and/or Discover.
Minimum age: The main driver must be at least 25 years old.
Roundtrip airline and/or cruise tickets.
Valid Passport.
03
May I use a friend's or relative's credit card for the deposit guarantee?
The credit card must be under the reservation holder's name. Therefore, a friend's or relative's credit card may not be used for this purpose.
05
How can I cancel or modify my reservation?
You may cancel your reservation using the following link: Cancel my Reservation
To modify your reservation for free, please contact our Customer Service Department.
07
Are all taxes and fees included in my reservation?
Your reservation includes all taxes and fees. Please keep in mind that some taxes and fees must be paid directly at the counter.
09
What is the deposit amount required by the rental Company?
The deposit amount may vary depending on the season, itinerary, and car category. This amount will be confirmed by the rental company at the time of pick up. The reservation holder must have a valid credit card under his/her name. The credit card holder's name must be printed on the card and it must count with sufficient funds to cover the deposit guarantee.
The deposit on the credit card will be released upon the return of the car. However, the funds may take up to 15 business days before they can be reflected on the account.
11
Is it cheaper to book online or through your customer service department?
By booking through our website you will be able to enjoy the best rates and discounts available on the market.
Rent a Car in Fort Lauderdale, Florida

A trip to Fort Lauderdale offers visitors plenty to see and do, with amazing beaches, sights, shopping, dining and nightlife experiences up for the taking. While the city does have public transportation, having one\'s own car is a much easier way to get from place to place. The area is well connected by public roads and highways, so getting wherever you want is a breeze in an air conditioned car. Fort Lauderdale car hire allows you the convenience of picking up and going wherever you like, even at a moment\'s notice.
One major draw to the city is its beaches, as Fort Lauderdale is known for its white sand, blue water, swaying palm trees and balmy climate. A rental car makes it easy to drive over to your favorite beach spot. Plus, a car gives the ease of loading up everything you\'ll need for a day in the sun. Pack up a cooler with cold drinks and snacks, gather some umbrellas and lounge chairs, and bring a few water toys. Pack them up in the trunk and you\'re on your way. Fort Lauderdale beaches have convenient parking lots and garages up and down the coast, so you can quickly store your car for the day.
For some more fun, take advantage of other recreational and entertainment options in the city. Fort Lauderdale boasts museums, music halls, comedy centers, movie complexes and more. You can also make a day of shopping, as the city boasts several large outlet malls and shopping centers for your disposal. Having your own private car to use makes it easy to drive from spot to spot, so you can experience everything the city has to offer.
In the evening, make sure to get in on the stunning Fort Lauderdale nightlife. A fantastic restaurant featuring some local cuisine is an excellent way to cap off any day. Look for local flavors like seafood, Cuban, Mexican, Haitian and other eateries. Afterwards, drive on over to a bar, lounge or club on the beach, to wind down with a cold drink as you watch the lapping waves and moonlight on the shore.
Fort Lauderdale car hire gives you the option to sample everything your heart desires. This convenient transportation method means you\'re never stuck in one spot, so you can get out there and take part in all the South Florida action. From dawn to dusk, you\'ll be zipping around town in high style.